How many types of slewing bearings?
Slewing Bearing Types:
Rotary bearing is a kind of special medium and large-sized bearing which can bear large radial load, axial load and overturning moment at the same time.
There are several types of slewing bearings which are classified according to their structural forms, common rotary bearings are four-point contact ball bearings, inserted cylindrical roller bearings and double-row reducing ball bearings and three-row combination of cylindrical roller bearings.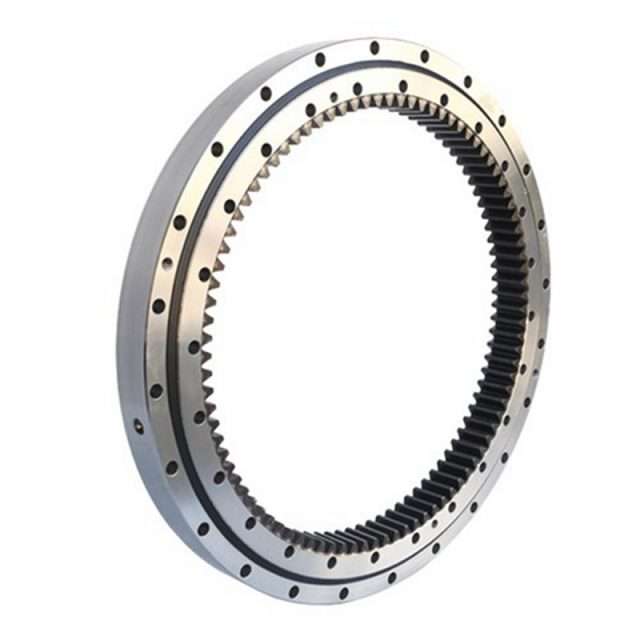 four-point contact ball slewing bearing has a higher dynamic load ability, the main application of dynamic meet the requirements of higher machinery, for example, walking work crane, excavator and so on.
2. Double-row reducing-diameter ball bearing, double-row reducing-diameter ball bearing, three-row cylindrical roller combined rotating bearing because of the load-bearing ability to improve the direction of the height of the guide bearing,
all kinds of loads are received by different raceways and roller groups, so under the same stress conditions, it has the characteristics of making the host more compact, is a high load-bearing capacity of the rotating bearing.
3. Pierced cylindrical roller slewing bearing, pierced cylindrical roller slewing bearing has high static load ability, it is mainly used in working static equipment, and four-point contact ball slewing bearing is just the opposite.
4, three rows of cylindrical roller combination, three rows of cylindrical roller combination slewing bearing due to the increase in load capacity to the bearing height direction.
Second, according to the classification of Rotary Drive
1. The form of transmission can be divided into tooth type and worm and worm type, which inherit the characteristics of gear transmission and worm and worm transmission respectively and can be used in medium-high speed and low speed applications.
2. The transmission mechanism can be divided into open-type rotary drive and closed-type rotary drive.
Usually, the open-type rotary drive will be used in the harsh environment, maintenance and maintenance cycle are relatively short occasions, this is because the open-type structure more convenient inspection and maintenance of the machine, but also more convenient replacement.
The closed-loop rotary drive is mostly used in little change, the level of environmental pollution below the medium, in this case, the closed structure, to provide a longer maintenance life cycle.